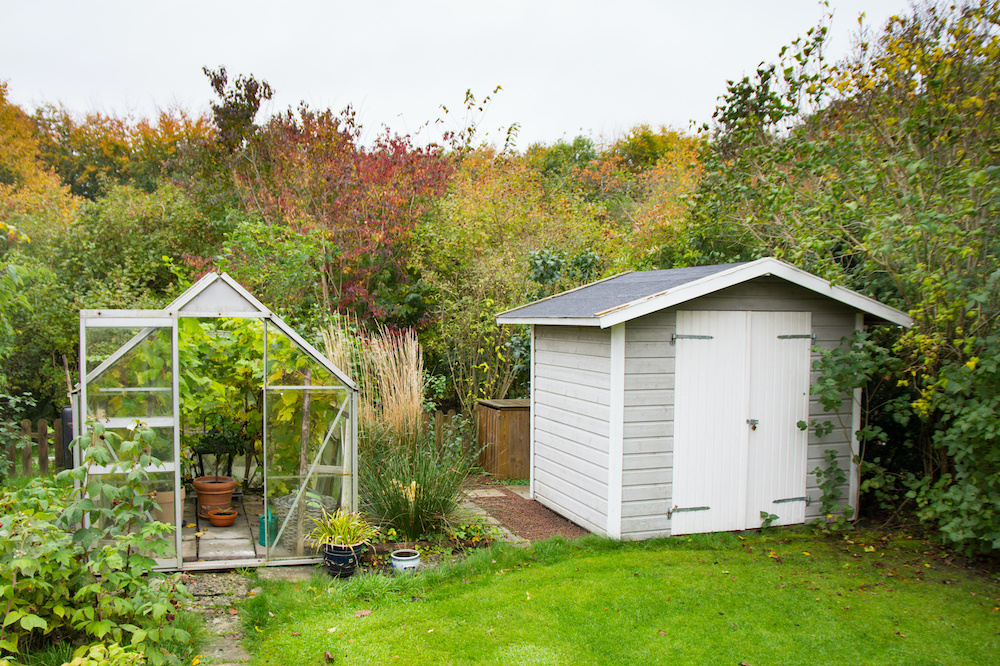 Once you have a shed in your yard, you may think you'll never need to move it.
While this can be true for most people, what happens when you do need to get your shed off the ground to another location?
Complete with reasons you may need to move a shed, plus tips and tricks on how to move a shed on skids easily, and an exclusive look at Ryan Shed Plans that makes building sheds a breeze, this guide might be all you would need.
How to Lift a Shed to Move It
The first thing you'll need to do is know how to move a shed properly.
If you don't, not only could you and your buddies get hurt, but your shed could end up permanently damaged.
It's important to take your time and make sure you have enough manual labor to get the job done.
Let's take a look at how you can move a shed properly.
1. Secure the Shed Structure
Understandably, sheds are created to stay on the ground, even during bad weather, but sheds will still have weak points throughout the structure.
Making sure these are supported can save you a lot of hassle in the long run.
One thing you can do is remove all the windows since moving the structure could easily break them, causing a safety hazard.
You can also attach boards that have nails or screws in them from one corner to another across the floor in an X shape.
Lastly, use wood beams to support the empty window and the doorway.
2. Dig Under the Shed
The next thing you'll need to do is dig under the shed to place a jack under it easily.
It's a good idea to dig six holes in total with one on each corner and two in the middle of each side.
You only need to dig a hole that can fit a jack; keep your yard looking good by not over digging.
If your shed is on a concrete slab, you'll need to skip the digger and get enough human strength to lift the shed and fit a jack under it.
If you have to do this, make sure you support the shed by adding in blocks on each side.
3. Jack Up the Shed
Now that it's time to jack up the shed, the easiest and quickest way to get the job done is to use multiple jacks at once.
This way, you can lift the shed with whoever is helping you at one time.
If you don't have help, use one jack to raise the shed and prop it up using blocks along each side.
Do this until all four sides are safely and securely off the ground.
You can use this as an opportunity to fix any issues under the shed, but proceed with extreme caution and only jack up the structure as high as you need to.
How to Move a Shed on Skids
Now that you know how to lift a shed properly, it's time to learn how to move a shed on skids.
Steps Involved
Below you'll find easy to follow instructions to make this as painless as possible.
1. Prepare Pipes and Tracks
Skids are an easy way to move a shed across the yard when needed.
The first thing that you'll need to do is find pipes that are longer than the shed and strong enough to support its weight.
These pipes shouldn't be so heavy that you and a few buddies can't move them with your strength.
Consider a thick-walled PVC pipe that is five to 10 feet longer than the structure.
Depending on the size of your shed, you may need between three and six pipes.
2. Roll, Reposition, Repeat
Slowly and carefully jack the shed onto the rolling pipes.
Then, it's time to push the shed in the direction that you want it to go, but make sure you do this at a slow pace.
Make sure that anything you could trip over is out of the way and that the path ahead of you is clear.
Eventually, as you roll the shed, the pole closest to you will roll out under the shed.
When this happens, run it around to the other side of the shed to replace it and keep rolling.
This action needs to be done whether you're using pipes, wooden tracks, or a combination of both.
3. Reverse the Lifting Process
After repeating the previous step several times, you'll reach your destination.
Once you have the shed exactly where you want it to be, it's time to reverse the lifting process.
To do this, it's important to look for a few things first.
Make sure the area you're setting the shed is level and doesn't have anything like rocks, kids' toys, or lawn tools.
Slowly reverse the lifting method until the shed is safely on the ground.
Crack open a beverage of your choice and order some pizza to thank your friends for all the help. You're done!
Tips to Keep in Mind
There are a few things that you should keep in mind to make things as safe and easy as possible.
Here are three tips and tricks to move your shed in no time:
1. Empty the Shed
Before you even jack the shed up, you need to make sure that the shed is empty.
Most people accumulate unnecessary things in their shed over the years.
If this is you, use this as an opportunity to declutter and get rid of things you don't need anymore.
Emptying the shed beforehand will reduce the amount of weight you have to push and keeps your belongings safe and secure.
2. Clear Your Path
Another thing you'll want to do before moving your shed is to plan out a path.
Know exactly where you would go and feel free to go the extra mile and tape things off.
When you do this, you want to make sure the path isn't too steep, is wide enough, and there aren't any deep holes or permanent structures that you could trip over.
Be aware of any overhanging tree branches, powerlines, or anything else that may be overhead.
Also, be sure to clear the path before moving the shed, giving yourself plenty of extra room.
3. Know Your Limits
Lastly, knowing your limits is a great way to prevent injury and keep your friends and family safe.
If you don't have people in your life who are available to help you, it's best to hire people to help or get a company to do the job for you.
The last thing you want is the shed to fall on top of you or your shed getting destroyed in the moving process because there wasn't proper lifting measures followed.
Bonus tip: if the shed has any electricity or water running to it, make sure to have a professional disconnect these things beforehand.
My Shed Plans
If you've made it this far and you don't even have a shed yet, that's okay.
Building your shed can be a fun way to achieve a big task and learn a new hobby in the process.
You don't have to be a woodworking expert to be able to create your dream shed in less than a week.
My Shed Plans has thousands of beautiful shed designs to choose from, and they each come with easy to follow step-by-step directions.
You won't have to worry about running to the store at the last minute since the software has a list of the materials required for each job.
If you're a visual learner, you'll appreciate the laid out views of each piece needed for each shed, along with the 3D drawings that make it easy to see where everything goes.
Unlike other shed building guides online, the software is designed and written by people who are experts in the field.
Conclusion
What a better way to learn how to build a shed than by using a book with software like My Shed Plans?
After you've made a shed, you'll know how to move a shed on skids, as well, since this guide taught you exactly what you were looking to learn.
Moving a shed doesn't have to be a dreaded task, and as long as you have a few helping hands, it will be quick and painless!
Remember to empty the shed beforehand and get rid of any unused things that you found inside.
After that, make a clear path with plenty of room all around you, including overhead.
Be careful, go slow, and good luck!